By: Nate, nate@annarbortees.com
about 5 years
Last time we explored the fit of the shirt. We gave you a couple of pointers on how to pick the right shirt for your group. In this blog we are going to talk about the fabric of the shirt. The fabric will determine how the shirt feels, looks, and wears. Here are a few features that will affect how you experience your new apparel.
Pre-shrunk vs. not pre-shrunk
This is important to consider with sizing. For shirts that are not pre-shrunk, a good rule of thumb is to order a size larger than you normally wear. Brands like Gildan and Canvas come pre-shrunk. Other brands like Hanes and American Apparel are not pre-shrunk. Your Sales Rep will be able to tell you which shirts are pre-shrunk.
Ring spun cotton vs. Jersey-knit cotton
Ring spun cotton is softer than jersey t-shirts, and is typically used on fashionable brands like American Apparel or Canvas. Jersey-knit cotton is found in basic, traditional cut t-shirts. Common giveaway shirts like Gildan and Fruit of the Loom are typically 100% cotton and jersey-knit. Ring spun is a great way to make your shirts stand out from more common shirts.
Polyester, Rayon, and Spandex
Polyester is almost always the second fabric in 50/50 blends (cotton is the first). Polyester makes the shirt lighter and wick away moisture. 50/50's tend to be priced about the same as similar styles that are 100% cotton. Some people prefer one over the other. Rayon, also known as Viscose, is the third fabric in a tri-blend (along with cotton and polyester.) Rayon allows for a shirt to feel even lighter weight, softer than a 50/50, and makes the shirt stretchier. Spandex, also known as Lycra, isn't nearly as common as the others but is sometimes used as a third fabric to make the shirt stretch more.
Tri-blends are one of the most comfortable fabrics. Here are the reasons to choose 100% cotton over a tri-blend
Price - Tri-blends are more expensive.
Look - They are heathered and look more casual, and a more professional look is needed.
You are going somewhere that has the possibility of bursting into flames (more on that in the T-shirts with Superpowers blog.)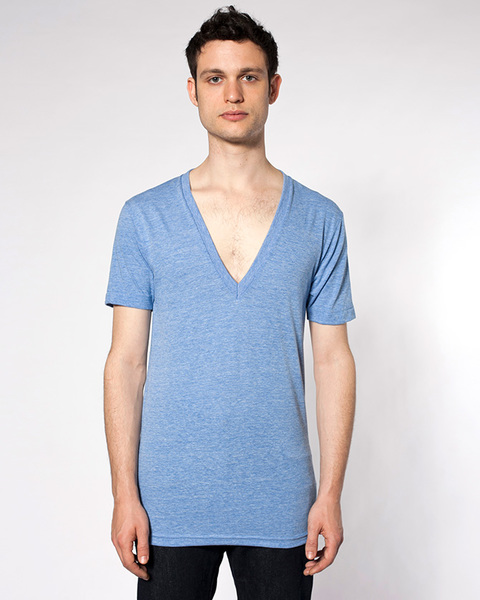 There are even more types of fabrics, such as Pima, Interlock, Jacquard, and Oxford. I hope that this has given you a good overview of the differences of the more common fabrics. Someday, we'll discuss some of the finer points of specific fabrics.
In How to Order a Shirt part four, "When a T-shirt Isn't Enough," we'll tackle garment types like hoodies and oxfords. After that, we'll talk about Shirts with Super Powers like fire retardance and why an irrational fear of wearing polyester on planes is not irrational.
Request Pricing
---
Tags: #t-shirt, #custom printing, #how to order a shirt